HOTPHASE FURNACES
Technology for press hardening
HOTPHASE FURNACES
Technology for press hardening
EBNER | Products | Press hardening | Technology for press hardening
Heat treatment furnace facilities for the steel industry
HOTPHASE Furnaces. Technology for press hardening.
Only the latest technology meets the high quality standards of automotive suppliers. EBNER HOTPHASE furnaces are effi cient, precise, and durable. Complex structural parts with tensile strengths in excess of 1500 MPa set new standards in lightweight automotive design, well as in crash test performance.
Our HOTPHASE furnaces offer:
the highest possible degree of standardization
the best possible fl exibility in design
the highest quality of equipment and service
durable mechanical and automation systems
a wide variety of furnace dimensions are possible
a wide variety of heating systems may be employed
a wide variety of furnace atmospheres may be
programmed
the highest fl exibility and precision during production
the most precise temperature and atmosphere
control
exact maintenance of the temperature of the blanks
the shortest possible cycle times
the lowest possible consumption
the greatest possible facility availability
straightforward operation and maintenance
the best spare part and service support
SiSiC radiant tubes: the best performance, paired with long service life and low maintenance (regular rotation of the tubes is not required)
Standard roller bearings in the cold section: no cooling of bearings required
Simple roller seal design: ensures the cleanest and most economical furnace atmosphere
Centering roller table for blanks: straighforward, automatically
reproducible positioning of blanks
Automatic valve stand: switches process atmosphere supply
economically and accurately
Automation and analysis: fully-automated supervision and control of the furnace atmosphere
PACC module.
Precisely Accurate Contact Cool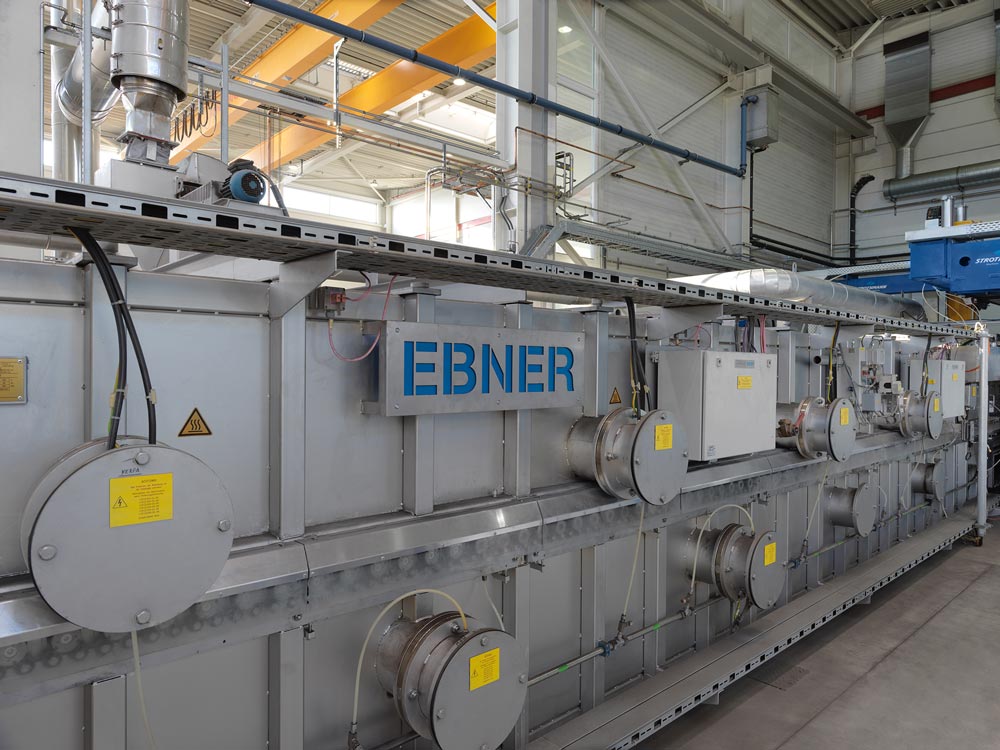 PACC module (In-Line Tailored Tempering)
The PACC module is the latest EBNER development, designed to allow tailor-tempered press-hardened (TTP) components to be economically manufactured in a roller-hearth furnace. Targeted contact cooling for temperature zones with different settings on the blank. Extremely fl exible, simple and durable. Installed in replaceable furnace roof sections, the maintenance-friendly PACC module can be rapidly swapped out when switching between products – without the need for labor-intensive adjustments. The centering system installed below the furnace rollers ensures that blanks are positioned accurately.
for TTP components in accordance with OEM standards

for coated and uncoated blanks

the smallest possible transition zones can be achieved

extremely fl exible, straightforward switch to other products

cooling cartridges simple to change and adjust

durable mechanical and automation systems

installed directly in the roller-hearth furnace

when processing without TTP, entire length of furnace may be used
Roller-hearth furnace with gas-fired radiant tubes.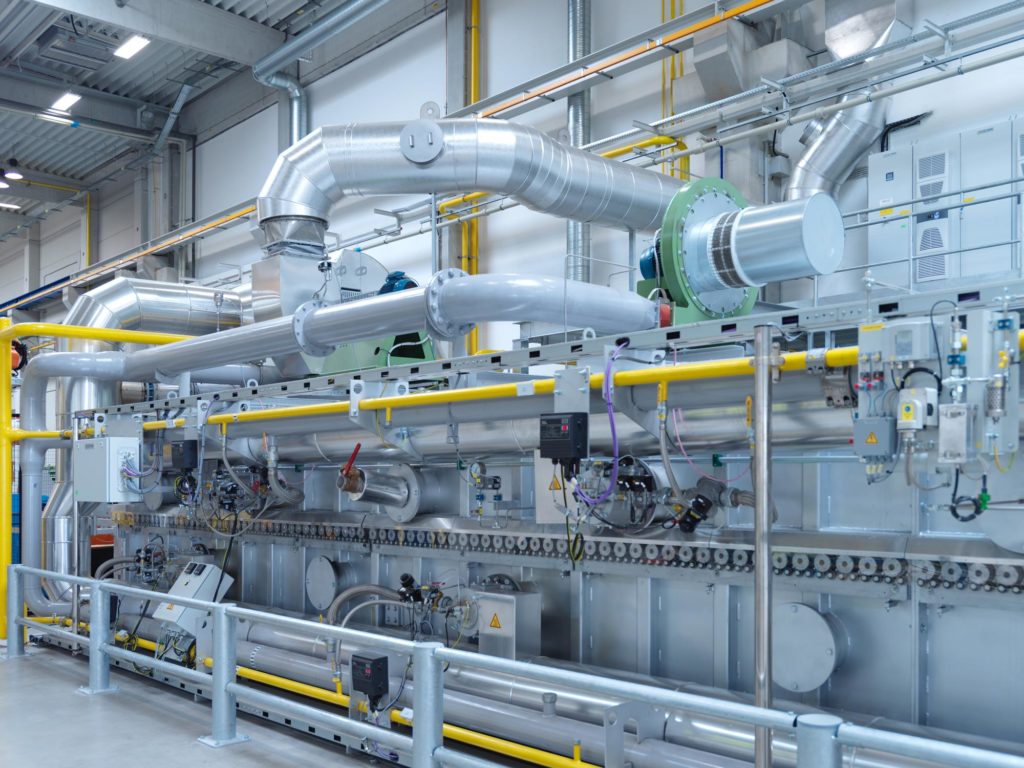 Roller-hearth furnace | Czech Republic.
When inexpensive natural gas is available as an energy source, this type of facility is an ideal solution. Maintenance-friendly and economical gas-fired radiant tubes, fabricated from SiSiC, are extremely efficient and ensure the lowest energy costs. Gasfired facilities thus ensure very low production costs. In addition, exhaust gas from the facility can be optimally used for thermal energy recovery. This lowers costs and is environmentally-friendly.
the lowest possible production costs

straightforward to maintain and economical,
as regular rotation of the radiant tubes is not required

eco-friendly, as thermal energy recovery systems can be installed
Roller-hearth furnace with electric heated radiant tubes.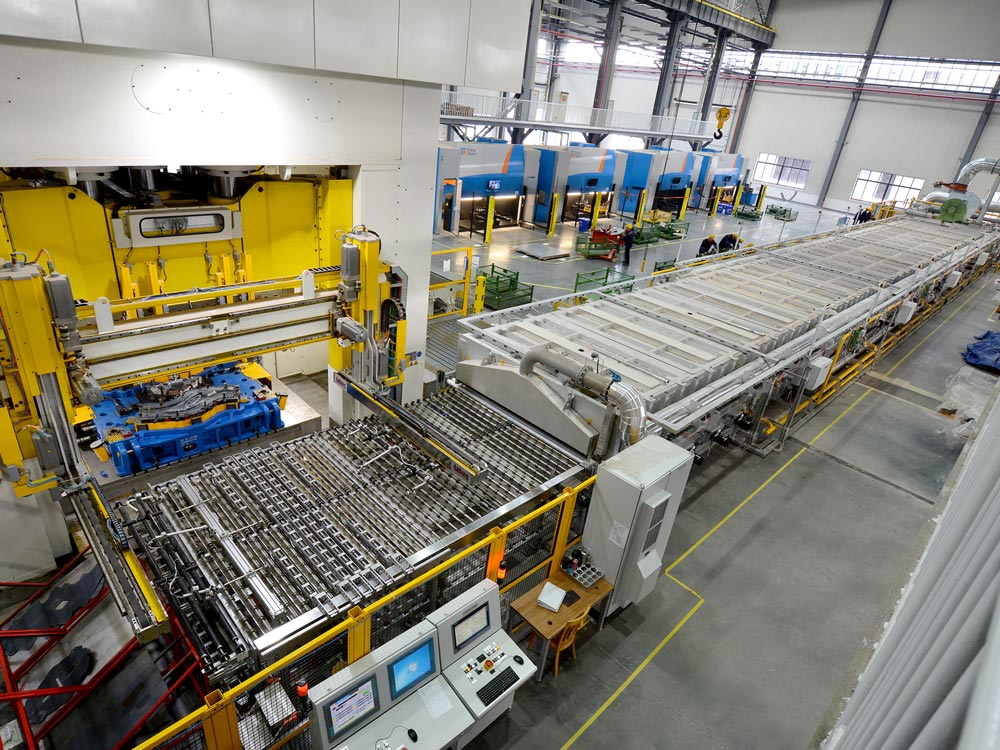 Roller-hearth furnace | China.
When inexpensive electrical power is available as an energy source, this type of future-oriented heating system is the optimal choice for your works. Perfectly protected by the maintenance-friendly SiSiC radiant tubes, the electric heating elements never come into contact with the furnace atmosphere that is in use. Electric heated facilities stand out due to their simplicity and ease of maintenance.
eco-friendly, due to use of renewable energy

maintenance-friendly, no regular adjustment of
heating system required

compact, as less pipework must be installed

noise reduction: reduced operating noise,
no B43 combustion air blower
Roller-hearth furnace with hybrid heating system (gas/electric heated).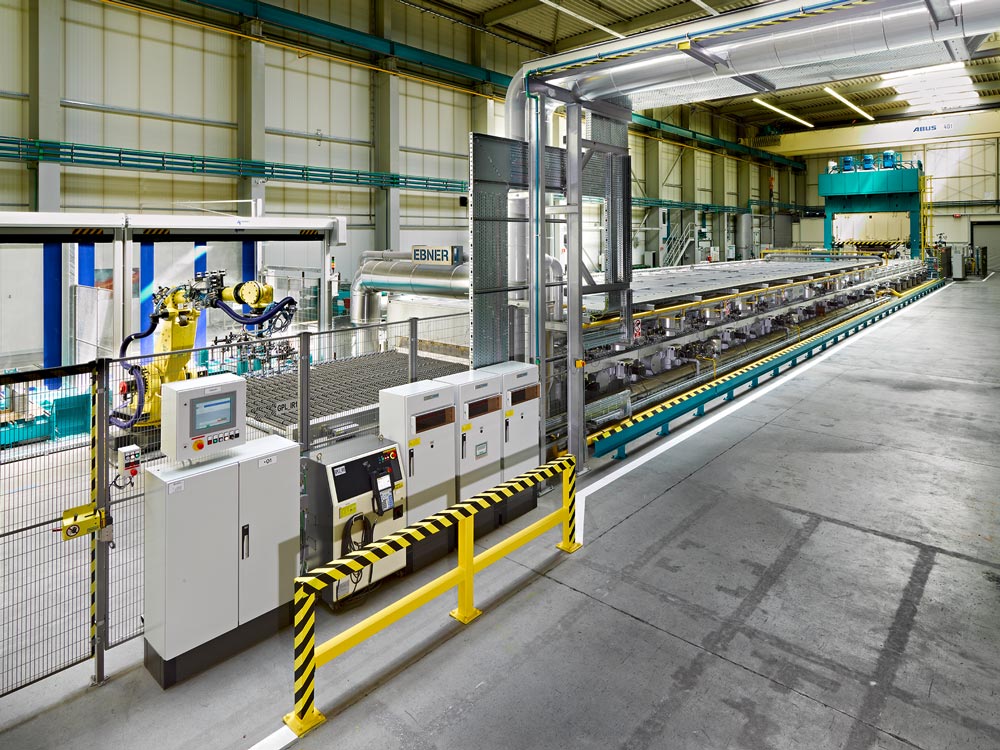 Roller-hearth furnace | Poland
The best solution is often a combination of two different systems. When inexpensive natural gas and inexpensive electrical power are both available as energy sources, the combination may be perfect for your heat treatment facility. In this design, the first section of the furnace is equipped with maintenance-friendly and economical SiSiC radiant tubes that are gas-fired. Electric heated SiSiC radiant tubes, also maintenance-friendly, are installed in the second section. This combined heating system is particularly advantageous at long roller-hearth furnace facilities.
the best of both systems

low maintenance

uses renewable energy

thermal energy recovery systems can be installed
Double-decker roller-hearth furnace.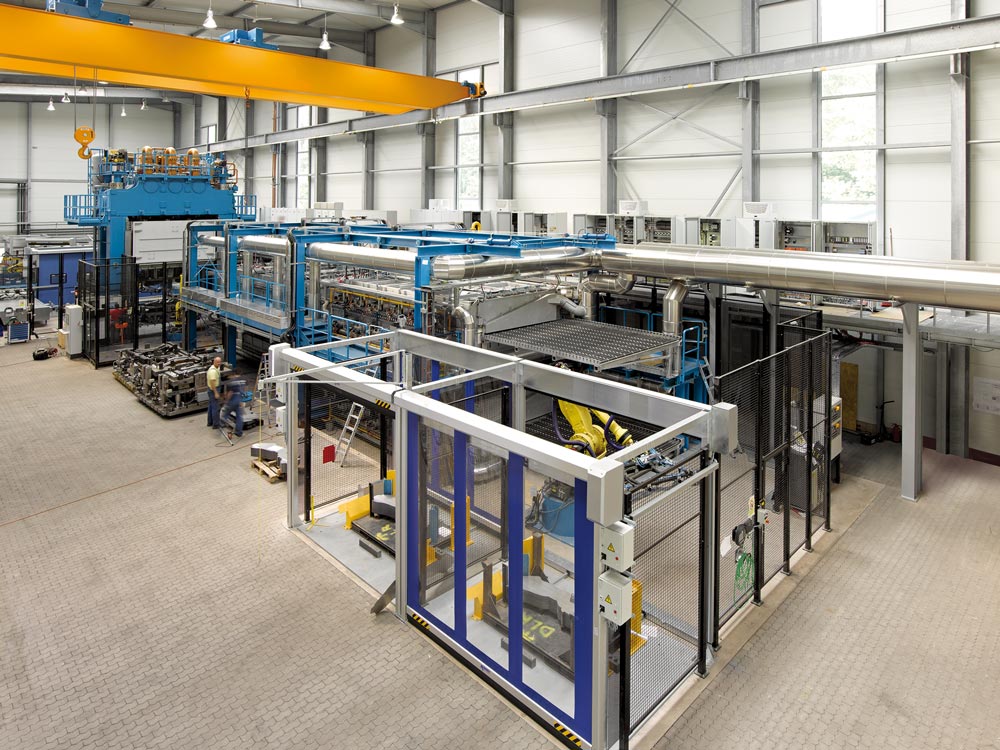 Double-decker roller-hearth furnace | Germany
This type of furnace provides the many advantages of a roller-hearth furnace in situations where there is a need for a sharply reduced footprint. In this design, two roller-hearth furnaces – each half the usual length – are installed one above the other in a support frame. The charging and decharging roller tables are shifted into the required positions by an elevator. Equipped with a gas-fi red, electric or hybrid heating system, this layout offers a perfect backup strategy for a production facility.
the lowest possible space requirements

all advantages of a roller-hearth furnace

perfect backup strategy

preventative maintenance can be optimally employed